Senior training is expected to resume from 30 Mar 2021, after the latest COVID-19 lock down, and continue into May in accordance with the league extensions to complete the season (by playing remaining games from first half of the season only). Confirmation is awaited from England Hockey and the relevant leagues to give the go ahead for league matches to resume from 17 Apr 2021. Your captains will be in touch in due course.
Junior training is expected to resume from 11 Apr 2021, and continue into July.
If you are involved in hockey related activities with the club (whether playing, coaching, umpiring, supporting or helping) then please read these guidelines and ensure that you have registered with England Hockey to gain consent to participate.
All players, coaches and umpires must complete the EH Consent Form before attending training or involvement in any games. You will NOT be allowed to train or play until registered. Captains and coaches will be provided with registers to check consent and record attendance, so that this information can be sent to England Hockey by the Covid Officer as part of the governments Track and Trace service.

Please note all players, officials, volunteers and spectators must undergo a self-assessment for any COVID-19 symptoms. No-one should leave home to participate in any form of hockey if they, or someone they live with, has any of the following:

• A high temperature (above 37.8 °C)
• A new, continuous cough
• Shortness of breath
• A sore throat
• Loss of or change in normal sense of taste or smell
• Feeling generally unwell
• Been in close contact with / living with a suspected or confirmed case of COVID-19 in the previous 2 weeks

This check should be directly done before each hockey session. By attending training, or matches you confirm you have complied with the self-assessment and are not displaying any covid symptoms. Should you have demonstrated any such symptoms, you must not participate. Instead you should follow NHS and PHE guidance, book a test and inform our Covid Officer (covidofficer@okhockey.com) immediately upon receipt of any positive test result.

| Link | Description |
| --- | --- |
| Consent Form | England Hockey Individual Consent for Participating in Hockey under Covid-19 Restrictions form. Please send a copy of you confirmation email to the Covid Officer (covidofficer@okhockey.com) |
| Advice for Participants | Please read this Advice for Participants before playing hockey. You will need to confirm you have passed the self-assessment check prior to attending ANY session, you must not be under travel quarantine periods, and no self-isolation / living with anyone with COVID-19. |
| Club Support | England Hockey provide guidance and advice for everyone involved in hockey |
| Risk Assessment | COVID-19 risk assessment carried out by the club |
| TGS Visitor | New visitor's registration for parents & guardians at Tiffin Girls School |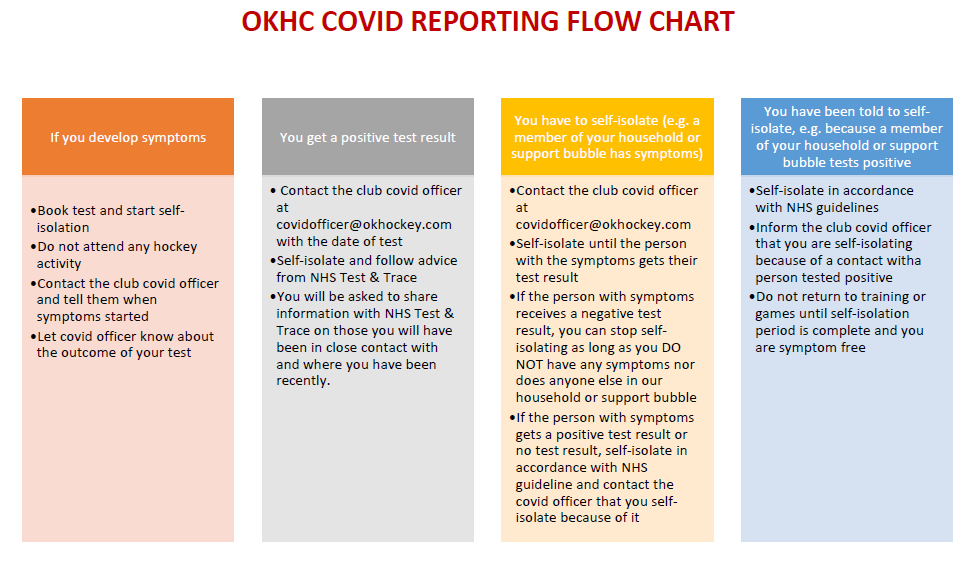 Please check the following page for specific details around access to KGS and Tiffin pitches.